Trying something a bit different as I can't do much in the way of makeup posts right now due to our move! We're moving on Saturday so hopefully I can get back into posting once I have my vanity all nice and set up :)
I'm trying to work on some reviews, too, so stay tuned!
For now, I'm just posting a bit of a spring/summer wish list... mostly clothes but I'll probably toss in a few other bits. As a response, be sure to tell me what you're lemming!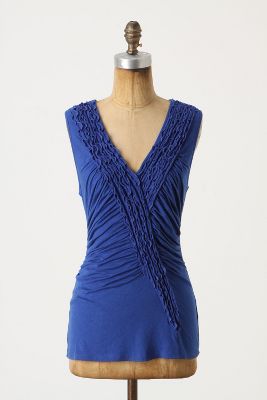 Expanding Horizons Tank, $48.00, Anthropologie
Not much to say about this one -- I like the styling and the color, and generally this type of shape flatters my figure. Too bad it's kinda pricey!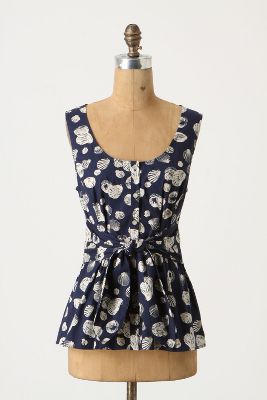 She Shells Tank, $78.00, Anthropologie
OMG, love love love LOVE this. I love seashels and the styling would, again, be good on my shape. Hopefully this goes on sale!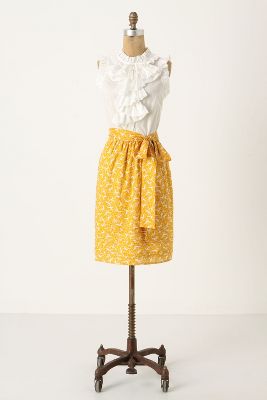 Sunny Soirees Dress, $148, Anthropologie
I'm not normally a fan of yellow but I absolutely love this. Not sure about the shape so it'd have to be tried on... but either way: love it.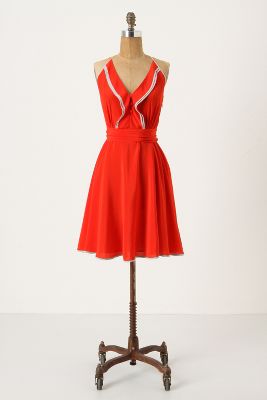 Gull Wing Dress, $168, Anthropologie
I've always wanted a red dress and this is so gorgeous! Definitely watching this for a sale.
Floral Halter Neck Sundress, £24.99, New Look
It's so vintagey and RED! :) Hopefully they still have it when I visit (and maybe on sale?). Not sure about the back as it's a cross back, I'd have to see if I can wear a bra with it still.
Mint scalloped hem dress, £50, Dorothy Perkins
I LOVE their clothes. Can't wait to go shopping there... mint is a color that I had to try on to realize that it looked good on me!
Washed Voile Embellished Shirt, £14, Select
I'd really like a nice tunic top but haven't had luck finding one that quite suits me :(. I like the embellishment on this one and the rolled sleeves.
Vero Moda Full Chambray Skirt, $50.20, ASOS
I love skirts with buttons down the front and I also really like the grey colour of this! I just hate ASOS's prices...
Belted Button Front Romper, $32.99, Charlotte Russe
I'd really like to have a romper but my thighs aren't really good for them. This looks like it could be long enough on my legs though and I love the belt. Might be worth a try-on as the cheaper ones I've tried were too thin and short.
Colored Trench coat (
This one is now discontinued, from Lauren Conrad for Kohl's
)
I actually tried this coat on in store and it was too big, even in the smallest size :( I needed a petite in the smallest size, and it may have been alright. Unfortunately this brand doesn't do petite.

Decree Hook and Eye Cami, $17.99, JCPenney
I've always loved corseted type things and this is adorable! I saw it at the store but didn't try it on for some reason.
Rocket Dog Oak T-Strap Heels, $56.99, ShopRuche
I love the vintage style of these and the woven thing they've got going on. I'd like to find a pair of sandals with that woven, lacey style but can't!
LifeStride Ariel Sandal, $39.95, DSW
Something like this only a little cuter. Maybe I'll find something in England!
Grey Blossom Bib Necklace, $7.50, Charlotte Russe
I've been into bib necklaces for a while and like that this one isn't too over the top. I have a beautiful multi colored one but it's so large and long that I have nothing to wear it with :(
Union Jack Tapesty, $39.00, Urban Outfitters
Naturally.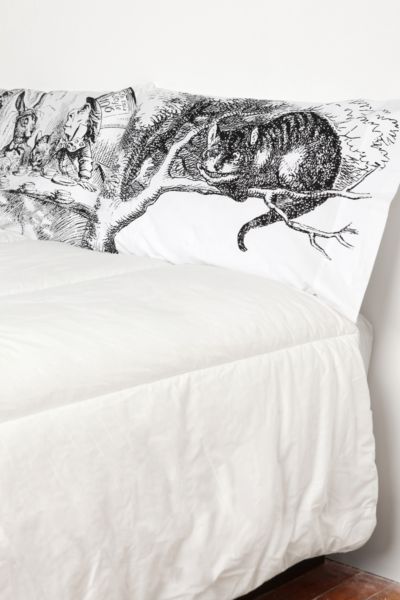 Alice Tea Party Pillowcase Se
t, $34.00, Urban Outfitters
OMG. That is all.
Dr. Jart+ Silv
er Label Rejuvenating BB Cream, $27.99, Amazon.com
I've been really into keeping my skin fresh lately and as I love tinted moisturizers, I've been wanting to try this. There's an American version out in Sephora but I've heard it's quite watery and not as good. I need to track down the original Asian version.
Cop
co Strawberry Teakettle, $29.99, Targe
t
I posted this on Twitter a while ago... Gwrraawrrr want so bad. My husband wants a more functional one for boiling water so I don't know if I'll get this. It would sure look cute in my kitchen though!
Zombieland Blu-Ray, $11.99, Amazon.com
I saw this at someone's house and thought it was great! Locally it's about $22.99 so I've been haunting my local discount movie store to try and find it. No luck yet. Since Amazon has it so cheap, I may order it from there!
LCD TV. We still don't have one... gotta have something to watch the blu-rays on! My husband and I are quite picky about the price and we just haven't found anything in our range that is worth the price. Almost got one from Walmart but when I put it into my online cart, it went out of stock as I was entering my shipping details. Really irritating.
Last, but not least... London :) I can't wait to visit in May and get to see this view again! I'm really excited to go around the castles and wander the streets again... it's so much fun and very different to life over here.
Anddd... I'm done. I think. :)